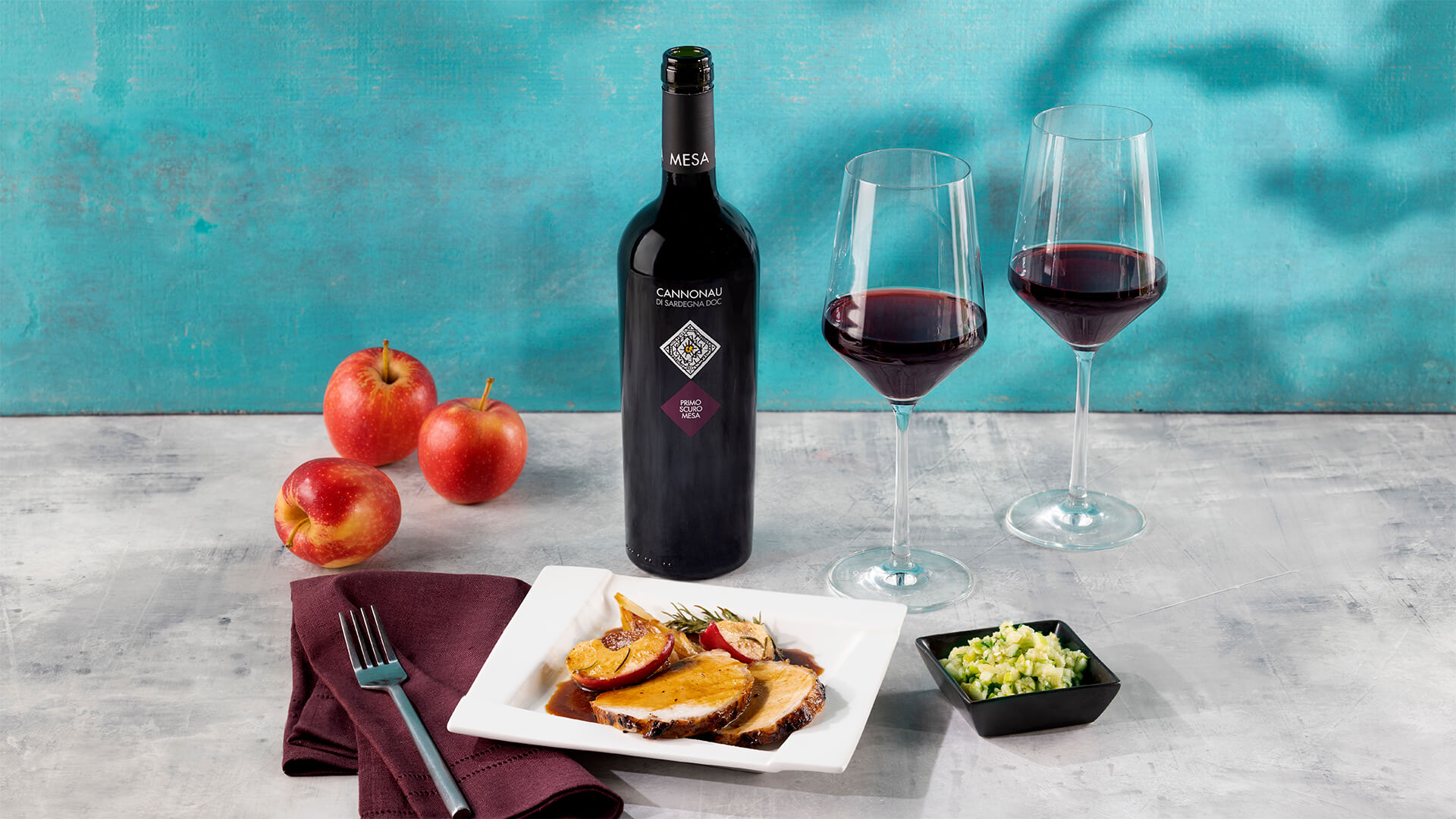 Roasted Pork Loin with Apples and Onions
Pairs well with the
Cantina Mesa PRIMO SCURO
Ingredients
For the pork loin:
1 boneless pork loin, trimmed of fat, 3-4 lbs

4 cloves garlic, grated 

2 tsp kosher salt

½ tsp freshly ground black pepper

2 tbsp olive oil

2 firm, medium apples, quartered (Honeycrisp or Pink Lady)

1 large onion, quartered 

2 tbsp unsalted butter

2 rosemary sprigs

2 sage sprigs

¼ cup maple syrup
For the apple chutney:
1 Granny Smith apple, cored and cut into small cubes

1 tsp lemon zest

1 tbsp lemon juice

1 small garlic clove, grated

¾ tsp mint leaves, chopped

¾ tsp sage leaves, chopped

½ tsp flat parsley, chopped

½ tsp rosemary, chopped

¼ tsp sea salt

¼ cup olive oil

½ cup water

¼ cup maple syrup or honey
Instructions
Place an oven rack in the center position, then preheat the oven to 400° F. Make a garlic paste by adding the grated garlic and salt to a small bowl. Blend well with the back of a spoon until a smooth paste forms. Sprinkle in the pepper.

Rub the pork loin all over with the garlic paste. Let it rest at room temperature for 30 minutes or cover tightly and refrigerate up to 1 day. Can be done overnight in advance.

Heat the oil in a large skillet (cast iron works best). Before searing the pork, wipe off excess garlic paste so the garlic doesn't burn. Add the pork to the skillet and sear it briefly on all sides until golden-brown. Transfer the pork to a plate. Do not clean the skillet. 

Add the butter, onion, apples, rosemary, and sage to the pan. Turn the heat to low. Stir to combine, scraping up any brown bits from the bottom of the pan. Drizzle in the syrup.

Return the pork to the skillet, nestling it among the herbs and apple mixture. 

Place the skillet on the center rack of the oven for 60 minutes or until the internal temperature of the thickest part of the pork reads 145° F. Remove the pork from the oven and let it rest for 20 minutes. 

To make the apple chutney, place all the chutney ingredients in a covered saucepan over medium-low heat and cook until the apples are tender, about 15 minutes.

Transfer the pork to a cutting board. Carve it crosswise into 3/4-inch-thick slices. Place the slices on a platter along with the roasted onion and apple mixture. Drizzle with pan drippings.

Garnish with sage and rosemary sprigs. Serve the apple chutney on the side.
Other Recipes You May Like