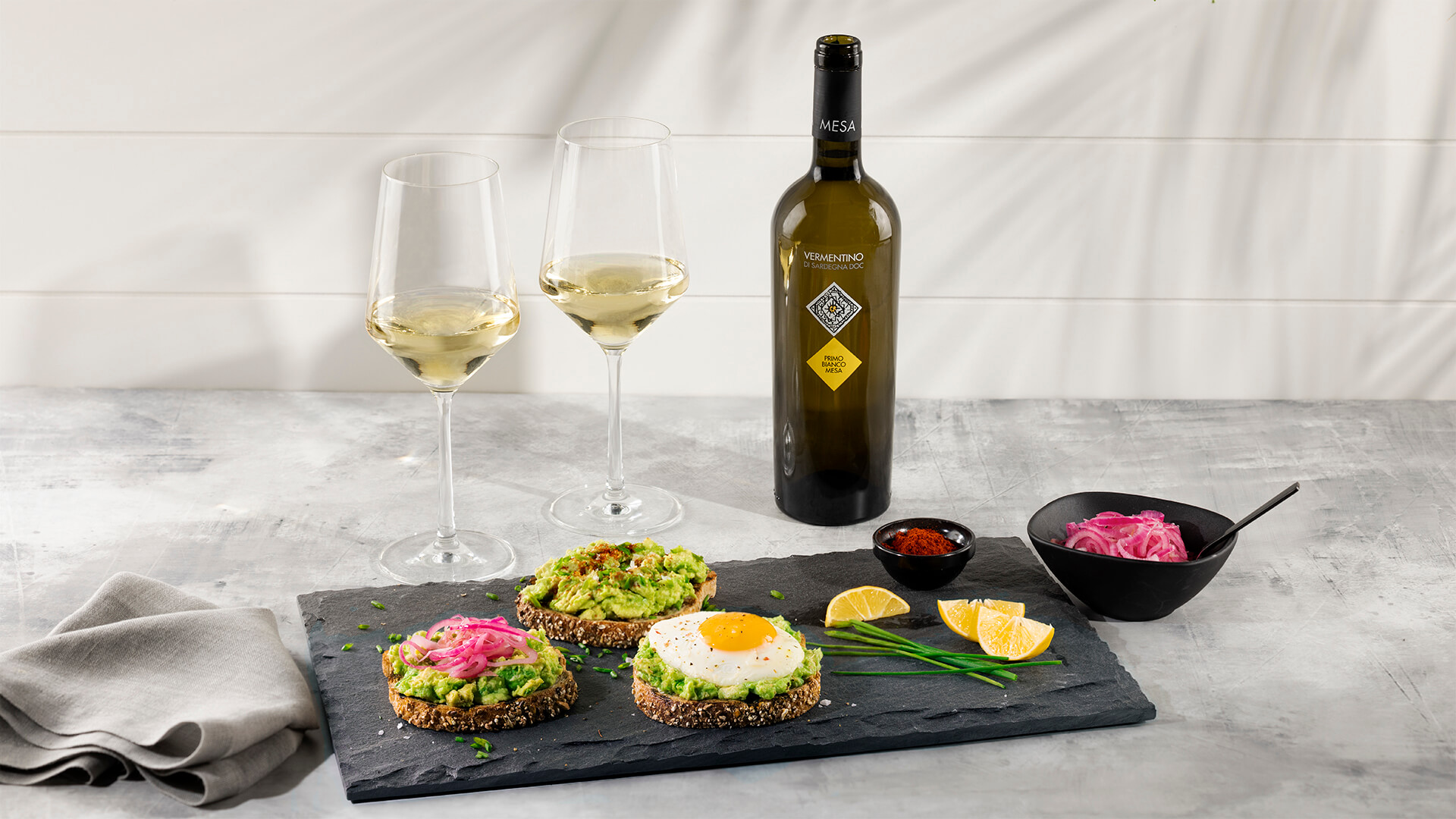 Avocado Toast with Pickled Onion
Pairs well with the
Cantina Mesa PRIMO BIANCO
Ingredients
1 small red onion, thinly sliced 

6 peppercorns, whole

1 bay leaf

1 cup water

1 cup red wine vinegar

¼ cup sugar

1 tbsp sea salt

2 Hass avocados

2 tbsp lime or lemon juice

4 slices artisan bread, toasted

1 tbsp unsalted butter

4 eggs
Garnish (optional):
Fresh chives, chopped

Smoked paprika

Lemon or lime wedges
Instructions
Add the vinegar to a small saucepan. Warm over medium heat for five minutes. Add the sugar and stir to dissolve. Remove from heat. Add the sliced onion, peppercorns, and a bay leaf to the vinegar mixture. Stir and let rest for an hour or refrigerate up to one week in advance. 

Slice the avocados in half, remove the pits, and scoop the flesh into a bowl. Add the lime juice, salt, and pepper. Mash coarsely with a fork. Set aside.

Heat a large skillet or griddle over medium heat. Add the butter and melt. Crack eggs one at a time into the skillet without breaking the yolk. Cook them sunny side – until the whites are set but the yolks are still soft, about 4-5 minutes.

Spread the avocado mash over each of the toasted bread slices. Top with a fried egg.

Drain the pickled onion. Top each toast with several pickled onion slices, salt, and pepper. Garnish with paprika, chives, and citrus wedges. Serve immediately.
Other Recipes You May Like