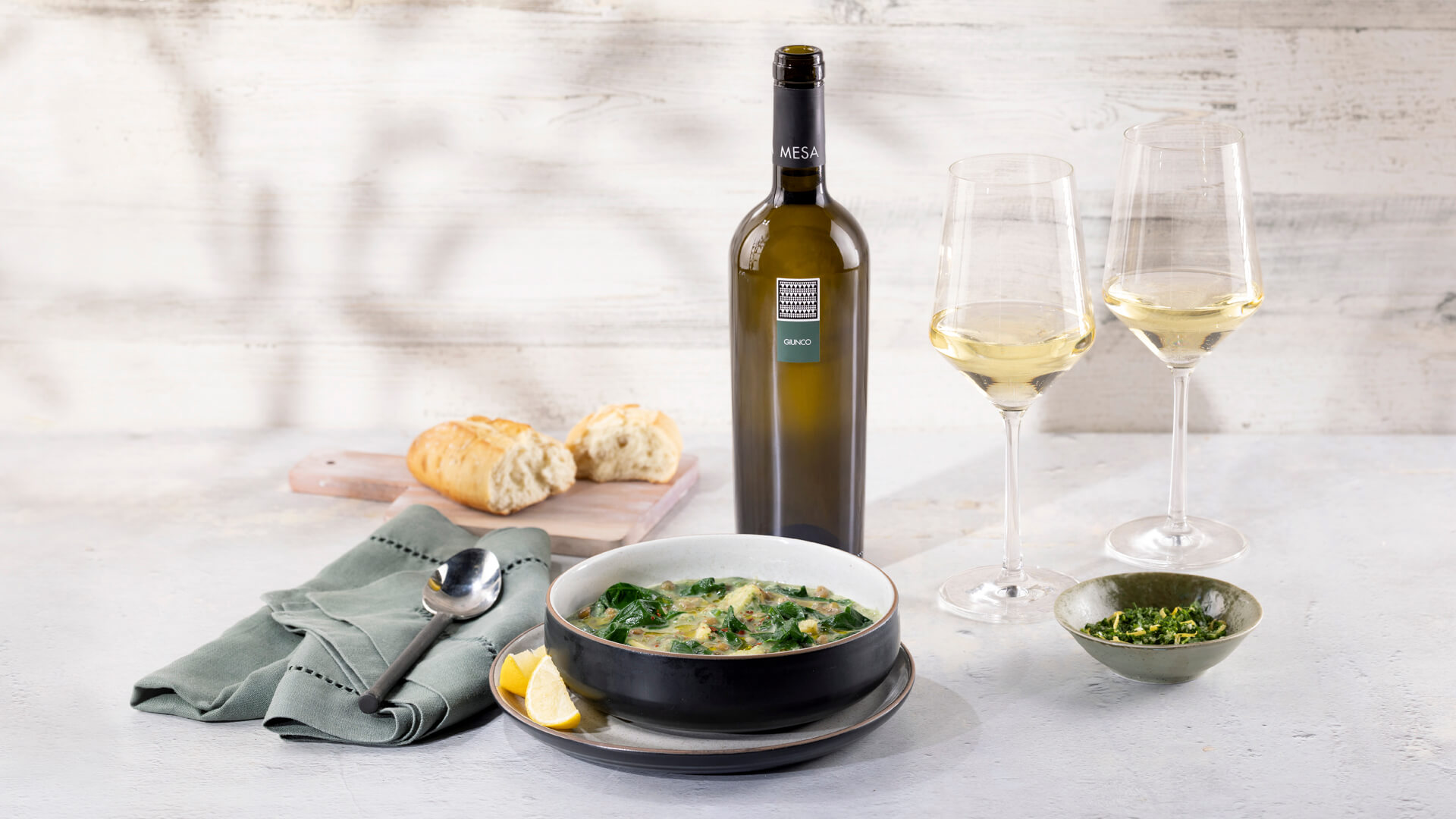 Creamy Green Lentil Stew
Pairs well with the
Cantina Mesa GIUNCO
Ingredients
For the stew:
3 tbsp avocado oil

1 cup sweet onion, chopped

2 garlic cloves, minced

1 tsp ground coriander

1 tsp smoked paprika

1 tsp cumin

Salt and pepper to taste

3 cups russet potatoes, diced into 1-inch pieces

2 cups green lentils, rinsed and sorted for stones

5 cups vegetable broth or water

½ cup white wine

3 cups baby spinach

½ cup cilantro, chopped

½ cup fresh basil leaves, chopped

¼ cup tahini

Juice of 1 organic lemon
For the classic gremolata topping:
½ cup fresh flat leaf parsley, washed, dried, and finely chopped

Zest from 1 organic lemon

1 large, fresh garlic clove, finely minced
Add parsley, zest, and garlic to a small bowl. Mix well and set aside. This will garnish your soup!
Instructions
Warm oil in a large pot over medium heat. Add the onion and sauté until translucent, about 6 minutes. Add the garlic, coriander, cumin, smoked paprika, salt, and pepper and stir. Cook until the onion is caramelized, about 4 more minutes. Watch carefully. Do not let the onion burn.

Add potatoes, lentils, broth, and wine. Cover the pot and bring the soup to a gentle boil. Reduce heat to low and simmer, covered, for 25 minutes or until the lentils and potatoes are tender, not mushy.

Add the spinach, cilantro, and basil to the pot. Stir to incorporate. Once the spinach wilts, carefully ladle half the soup into a blender or food processor. Only fill the blender or food processor ⅓ to ½ full. Add the tahini. Remove the center piece from the blender lid to allow hot air to escape before blending. Cover the lid with a kitchen towel, and starting on low, blend until smooth. Blend in batches if necessary. Add water or broth to adjust the consistency to your liking.

Add the blended soup back into the pot and reheat the mixture. Add the lemon juice and stir. Add the broth or water to adjust the soup's consistency to your liking. 

Serve hot in individual bowls. Top with gremolata.
Other Recipes You May Like