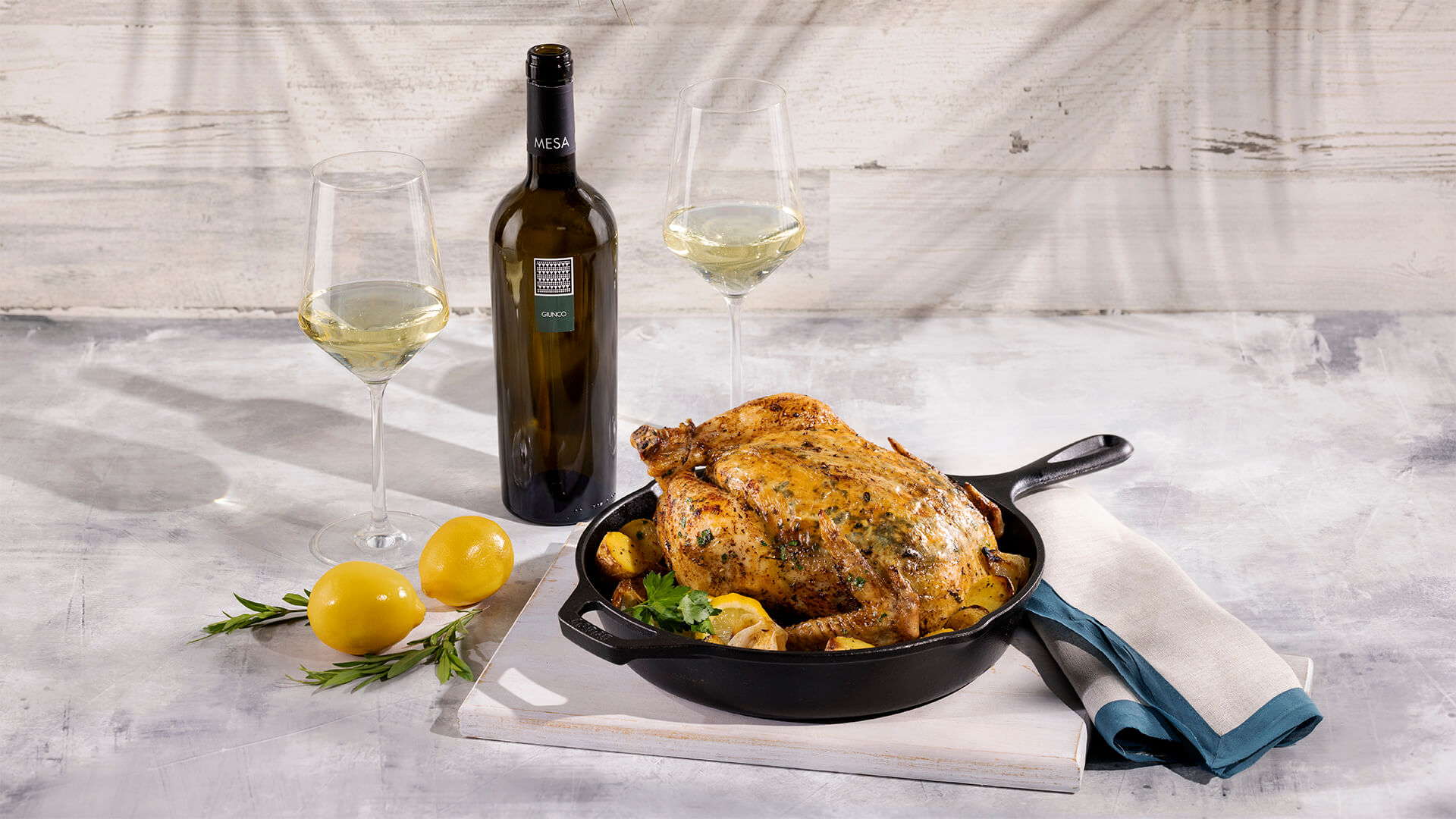 Lemon and Herb-Roasted Chicken
Pairs well with the
Cantina Mesa GIUNCO
Ingredients
¼ cup flat leaf parsley, chopped

2 tbsp tarragon, chopped

¼ cup olive oil

3 garlic cloves,

minced

Zest of one lemon

Salt and freshly ground pepper

to taste

1 whole chicken, about 4 lbs

4 tbsp unsalted butter, cold and divided

1 whole head of garlic

1 lemon

1 lb baby potatoes

1 large yellow onion,

quartered
Instructions
Preheat oven to 400

°

F.

In a small bowl, mix the herbs, olive oil, garlic, lemon zest, salt, and pepper. Set aside.

To prepare the chicken for roasting, remove the giblet package from the chicken cavity. Season the chicken all over, including the cavity, with salt and pepper. Using a sharp knife, make a few slits on each thigh to allow the herbs to penetrate.

Spread half the herb mixture under the chicken skin. To do so, slide your fingers carefully under the skin covering the breast. Place two tablespoons of butter under the skin on each side.

Slice the top ⅓ off the garlic head, exposing the cloves. Slice the lemon in half. Insert the garlic and lemon into the cavity.

Truss the chicken using butcher's twine, tightly tying the legs together. This step is worth the effort. 

Rub the trussed chicken with the leftover herb mixture and place it in a large cast iron skillet or deep baking pan. 

Place the potatoes and onions around the chicken and drizzle with olive oil, then season with salt and pepper.

Roast the chicken, potatoes, and onions in the oven for 60-90 minutes, basting with the pan juices every 15 minutes until the chicken is golden-brown and the juices run clear.

It will be ready when

a thermometer inserted into the thickest part of the thighs, without touching the bone, reads 165

°

F.

Let the chicken rest for at least 10 minutes before carving. 

Serve the chicken and potatoes on a platter, drizzled with pan juices.
Other Recipes You May Like