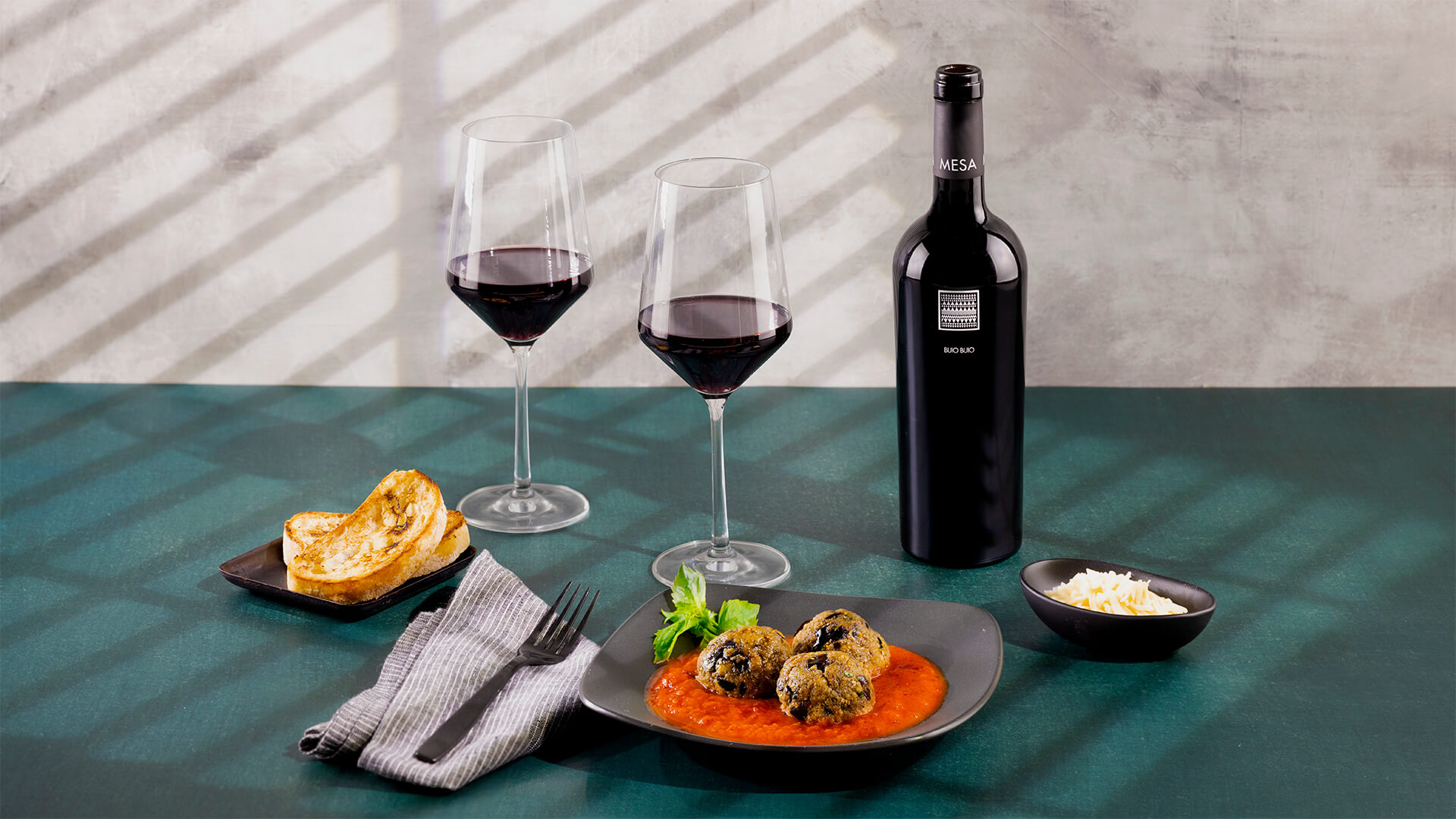 Eggplant and Porcini Mushroom "Meatballs"
Pairs well with the
Cantina Mesa BUIO BUIO
Ingredients
1 medium eggplant, skin on, chopped into 1-inch pieces

1 cup canned white beans

1 cup Italian-style breadcrumbs or Panko

1 clove garlic, chopped

1 egg, beaten

0.35 oz dried porcini mushrooms + ½ cup warm water to reconstitute

¼ cup reserved porcini mushroom water, once reconstituted

¼ cup pecorino romano cheese, grated 

Cooking spray

¼ cup flat leaf parsley, chopped

¼ cup basil, chopped

1 tbsp extra virgin olive oil

Sea salt and freshly ground pepper to taste

* Favorite tomato sauce, optional
Instructions
Preheat the oven to 400° F.

In a small bowl, reconstitute the mushrooms in warm water for 15 minutes. Set them aside.

In a large sauté pan, heat the oil over medium heat. Add the mushrooms, ¼ of the mushroom water, salt, and pepper. Sauté 8-10 min, until tender.

Roast the eggplant in the oven on a sprayed baking sheet. Spritz the chopped eggplant with cooking spray, too. Bake for 12-15 minutes until soft.

Transfer the cooked mushrooms and eggplant to a food processor. Add the beans, parsley, and garlic.

Pulse a few times until the ingredients are combined but not smooth. Do not overblend.

Transfer the mixture to a large bowl and add the egg, breadcrumbs, and cheese. To keep vegan, replace the egg with extra virgin olive oil and omit the cheese.

Gently mix all the ingredients together using a soft spatula, or even better, your hands.

Form the mixture into 10 to 12 meatballs. Bake them on a tray for 20-25 minutes until brown and cooked through. You can check for doneness by inserting a knife into the center of the meatball. If it comes out clean, they are ready. 

Remove the meatballs from the oven and serve them with your favorite tomato sauce. Garnish with fresh basil, parsley, and grated cheese.
Other Recipes You May Like